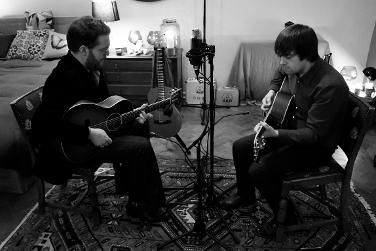 "There's a timelessness to the neatly crafted songs that display their musical interplay and superb harmony vocals." - R2 Magazine
Showcase act at the 2017 Americana Music Association UK festival.
When Joan Armatrading launched her 'local talent' search for acts to support her on tour in 2012, she was looking for original artists from all over the UK to showcase their work. Ben Smith and Jimmy Brewer were two of the acts chosen, and in 2015 she called them back to support her again on her first ever solo tour. They met each other at an industry showcase that was organised by Joan, and started writing together at the suggestion of some publishers they met there.
They originally intended to just write together, but after realising that they had a natural affinity for each other's styles they soon decided to start playing live too, and their first gig as a duo was supporting Joan in November 2015 in front of a thousand people. They have played many gigs since then, and recently they showcased at The Americana Music Association UK 2017 conference and awards in London.
Their voices complement each other in a way that is redolent of some of the greatest musical partnerships, their playing styles intertwine beautifully and the songs they write combine traditional storytelling with a modern twist that will leave you humming them for days.
Jimmy's inspiration for his song-writing career came from his desire to move beyond his rural upbringing and follow in the footsteps of the musicians who shaped his interest in playing as a young child, including The Rolling Stones, Elvis Presley and The Everly Brothers.
Ben has also been writing and playing from an early age, and despite his original desire to learn the banjo being thwarted, he threw himself into the guitar in an effort to emulate his musical heroes: BB King, John Martyn, Jerry Reed and the Grateful Dead.
Their eponymous debut E.P showcases their songwriting, close harmony singing and guitar style, and is available online through all major download and streaming services.