Reviews for 'Another Shade Of Smith And brewer'
Alan Cackett (Former Maverick Editor, member of the BCMA Hall Of Fame) -
https://www.alancackett.com/smith-brewer-another-shade-of-smith-brewer
Smith and Brewer might conjure up thoughts of a firm of accountants or solicitors, but the musical duo of Ben Smith and Jimmy Brewer are as far removed from the stuffiness of those professions as can be. They create guitar-driven country-rock that's dreamy and fiery, spontaneous and well-crafted. From beginning to end, Smith and Brewer exemplify originality and utilise their talents to make country music with a brain. They consistently deliver impressive performances; their harmonies, guitars, and percussion are all point perfect. This British pair is very reminiscent of the merging of two famous duos together, the Louvins and Everlys without sounding too much like either of the brother pairings. While honouring the past, this debut album sounds as bright as a new penny. That about sums up the feel of this recording: planted in yesteryear but cultivated firmly in the now. The duo shine as a beacon of warm and quirky outsiderdom in a rising tide of cookie-cutter Nashville Americana that is currently the norm for most UK 'country' acts.
Blended together Ben and Jimmy's voices sound made for each other, soaring and guiding the music through all the ups and downs of these finely crafted songs. Upholding the highest standard in harmony-drenched cool-vibes country-rock, these dozen self-penned songs cover all the relationship issues from unrequited love to enduring passion and all the heartbreak in between. While this album may have more in common with songwriters from years past than it does with anything currently on country radio, this pair's music is hardly a nostalgic throwback. It's something new and entirely different, a unique approach that simultaneously pushes the boundaries of today's country music and reclaims decades-old traditions for a new generation of listeners.
Opener Isabella sounds like Ira and Charlie Louvin being dragged into the 21st century in a most pleasing manner. An ethereal force blending two voices to form a single sound, which is at once effortless, yet powerful and demands your full attention. Entrancingly soft instrumentation is perfect for the aching Another Shade Of Blue, which gives rise to a relaxing ambience ahead of the hushed but harmonious and heartfelt singing. The rhythm section of Eric Lavansch (drums) and Tom Sinnett (bass) is introduced for Life's Too Short with concise and intricate guitar and light-hearted lyrics with all the harmonies and jangle of the Byrds at their best. Beatific but thrillingly rhythmic, the duo's earnest tones beam with radiance on Favourite Photograph. The dynamically combustive Don't Say You Don't Love Me outlines the difficulties all relationships go through, but genuine love should overcome most niggling obstacles.
The sound quality on Love You Forever like the rest of the album, is clear, spacious and uncluttered. The band stretches out a rhapsodic melody like a ribbon chasing the wind. For me, the highlight comes with Music City, a kind of love-hate nod to Nashville. Over the past few years there's been several songs by Brit acts paying homage to the home of country music. Most have been sugar-coated and rather twee. Not this one; it's real and honest and captures the Nashville beyond the bright lights of Broadway. The boys finish this rather special debut with the whimsical A Lovely Day For Doing Nothing. Bucolic melody, intricate acoustic guitar-picking and lazy, dusty vocals disguise a break-up that has yet to hit home. This is determined music, as evolved as it is respectful of its roots.
Equal parts expressive guitar technique and mesmeric country-rock distillation, Ben and Jimmy and their musical buddies run through these songs with a carefree attitude, borrowing and rearranging sounds and tonality as they see fit. Remarkably, long after the music ends, you'll find yourself humming these timeless songs, nodding with a misty-eyed grin as the world dissolves away.
November 2019
Rob Ramsey, Maverick Magazine Nov/Dec 2019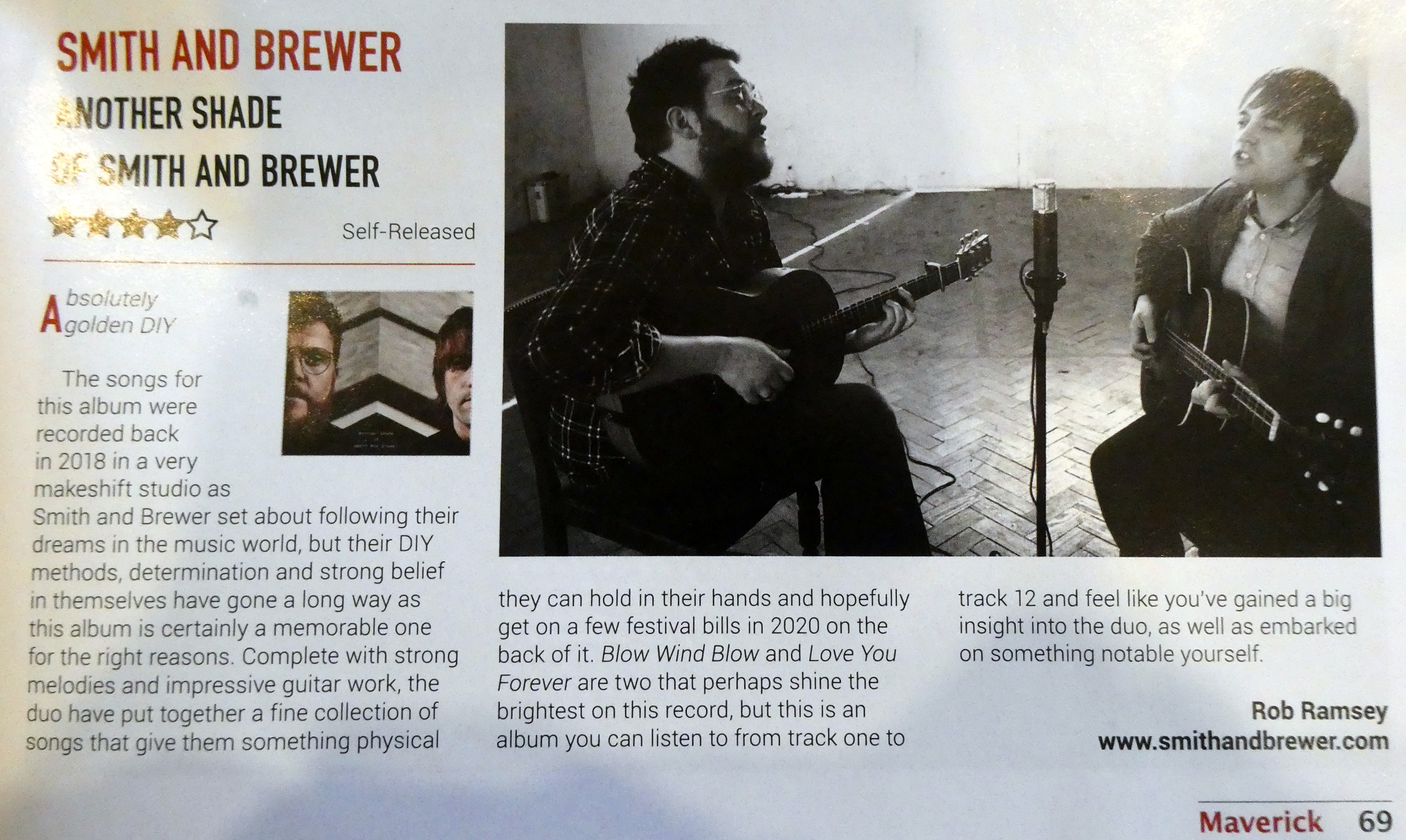 "Absolutely golden DIY"
The songs for this album were recorded back in 2018 in a very makeshift studio as Smith and Brewer set about following their dreams in the music world, but their DIY methods, determination and strong belief in themselves have gone a long way as this album is certainly a memorable one for the right reasons. Complete with strong melodies and impressive guitar work, the duo have put together a fine collection of songs that give them something physical they can hold in their hands and hopefully get on a few festival bills in 2020 on the back of it. Blow Wind Blow and Love You Forever are two that perhaps shine the brightest on this record, but this is an album you can listen to from track one to track 12 and feel like you've gained a big insight into the duo, as well as embarked on something notable yourself.
Su O'Brien, Folking.com'
https://folking.com/smith-and-brewer-another-shade-of-smith-and-brewer-own-label-smbr01/?fbclid=IwAR2hpgMbaHyN2gm4M__bKzCtNwNatbzo7rY9V0rJZI6WZJ_NjTln3Mcyq2Y
'Since first being introduced to each other by Joan Armatrading in 2015, Ben Smith and Jimmy Brewer have strode ahead boldly. Another Shade Of Smith And Brewer sees our eponymous duo filling out to a full band for their first proper studio album.
Many of the songs here feel like much-loved old friends, friends with a makeover and now gleamingly buff, toned and muscular. The addition of Eric Lavansch's drums and Tom Sinnett's bass has lent another dimension and dynamic to Smith and Brewer's compositions, allowing for greater meatiness and tonal variety.
But, not so fast. The album is bookended by classic Smith And Brewer duets of two of their finest songs. 'Isabella' appears in intimate close up, with its brittle-bright picking and those trademark tightly wrapped harmonies. Later, the melancholically laid-back 'Lovely Day For Doing Nothing' will languidly usher us out.
So it's song two before the difference, the band sound proper, kicks in with a muted drum signalling a subtly reworked 'Another Shade Of Blue'. More dramatic changes are afoot though, as 'Life's Too Short' takes on a very attractive new aspect as a pacy, energetic rockabilly romp, while hints of the early '70s – a homeopathic dose of Allman Brothers, maybe – infuse the American country soft-rock of 'Favourite Photograph'. (Even the album title, "Another Shade Of…" has a vaguely 70s throwback feel of polo-necked easy listening about it – mercifully not reflected in the contents).
A trio of 'B' songs follow. That's not a comment on quality, they just all begin with the same letter. There's a strong streak of self-deprecation in the tender 'Better Than Your Father', a touching paternal wishing spell and in 'Better Man' with its fear of being an undeserving recipient of love. In the middle of this trio, temptation beckons. 'Blow Wind Blow', is transformed by a shuffling beat that smoothes the shift between verse and falsetto chorus which marks the central heart vs.head dichotomy of the song.
'Don't Say You Don't Love Me' sashays along with new power, drawing on bold percussion and African-influenced swagger. On 'Julietta', the dense, fluid interplay and occasionally staccato guitars now intertwine over a fast-rolling bassline and 'Love You Forever' gains a punchy richness from a brush of drums.
'Music City' may signal another kind of shift for Smith And Brewer, who have proven themselves as highly creative lyricists, albeit often focused on love in its many guises. This drily funny tale of the pair's Nashville trip manages to convey excitements and frustrations equally, all set to a full-steam ahead rocking country blues with a thrusting road-trip bassline. If it's a new direction, it's a very promising one.
The new line-up allows for more exploration of Smith and Brewer's love of Americana, edging them away from Simon & Garfunkel territory and into something altogether more robust. With their, by now, firmly established talents in songwriting, close harmonies and guitar skills, the expansion into a band feels like the next logical step, moving their sound on and giving it room to grow in the future.
Album - Smith and Brewer - Live 16/12/17
'There's a definite feel of Simon and Garfunkel about this duo: two beautifully blended voices, accompanied with acoustic guitars. Very easy to hear why they were such a hit with Joan Armatrading [...]"Life's Too Short" is a real foot-tapping bluegrass ear worm. Once you've heard it, it is difficult to get it out of your head [...] Definitely a duo to watch out for - a modern day replacement for Simon and Garfunkel - what's not to like?'
http://www.fatea-records.co.uk/magazine/reviews/smith-and-brewer-live/
Fairport's Cropredy Convention Reviews
'Fairport are then swiftly followed by Smith & Brewer [...] and their Americana-infused acoustic playing, combined with August sun and a few beers is the perfect way to get us into the festival vibe for this most friendly and laid-back of festivals.'
http://getreadytorock.me.uk/blog/2018/08/gig-review-cropredy-festival-9-11-august-2018/
'The easy pace of the opening of the festival continued with Smith & Brewer. The young duo built a quick rapport with the crowd – their stage manner was excellent and their country tinged acoustic songs warmed the crowd up well for the rest of the day.'
https://louderthanwar.com/fairports-cropredy-convention-2018-festival-review/
'One of the newer traditions saw Fairport Convention Acoustic opening the festival [...] followed by one of my bands of the weekend, Smith and Brewer, a guitar duo very much in the vein of Simon and Garfunkel. Soulful vocals atop some amazing guitar work, one to look out for.'
https://www.festivalsforall.com/article/fairports-cropredy-convention-2018-review
'Smith and Brewer were very reminiscent of Simon and Garfunkel enrapturing the crowd with just themselves and two guitars.'
https://www.banburyguardian.co.uk/whats-on/review-fairport-s-cropredy-convention-1-8603740
'Other standouts were [...] the harmonious Smith and Brewer, who at times guitar-picked like Doc Watson. (Watch out for these two).'
https://jayjayemgee.wordpress.com/2018/08/12/cropredy-2018-as-eclectic-as-ever/
Cambridge Folk Festival Reviews
'On the home-grown front Ben Smith & Jimmy Brewer are two of the finest guitarists out there and did two great sets. The musical interplay between them is jaw-dropping and they were clearly having a blast as were their audience.'
https://americana-uk.com/cambridge-folk-festival-cherry-hinton-hall-cambridge-2-5-august-2018#more-16888
'Ben Smith and Jimmy Brewer, a most personable and hugely talented Americana guitar duo.'
http://www.godisinthetvzine.co.uk/2018/08/07/festival-report-cambridge-folk-festival-2018/
Other
'...Love, in all its aspects, is very often the subject matter, and on 'Better Than Your Father', Smith's beautiful hymn to his son, it's a pragmatic wish-list, "may you not pick up bad habits, I'll try not to give you mine". Yet even as the chirpy country of 'Life's Too Short' coldly throws out "if she wants to leave you for somebody new, then let her", it also features some gorgeously warm intricate picking. Along with the insistent, rolling blues of 'Julietta' with its frenetic guitar interplay there's no doubting just how seriously good Smith & Brewer are and how compactly they work together...'
https://folking.com/smith-and-brewer-live-16-12-2017-own-label/
'Ben Smith and Jimmy Brewer two-part harmonies, romantic lyrics and warm guitar interplay are laid bare.'
https://www.thelineofbestfit.com/reviews/live-reviews/americanafest-2017
'I'm utterly beguiled by this duo's charming blend of close harmonies and melodious songs. It's an obvious, perhaps even rather tainted comparison to make, but they're a sort of English Simon and Garfunkel – without the relationship issues, hopefully.
[...]A group of students filing out say, "Well, that was really great", and mean it. It was, really great.'
https://folking.com/smith-and-brewer-mumford-theatre-cambridge-21st-april-2018/
'The stand-out performance was undoubtedly their opener, "Isabella". Its strength rested on the seamless harmonies: they sounded instinctual and they were extremely impressive to watch. It was easy to get carried away by the melodies and those delicious harmonies, themselves. The song: about returning home and missing a loved one was just a pleasure to listen to. Combining elements of bluegrass, country, even with a slightly funky edge (even for an acoustic set) Smith and Brewer's music was a treat for the ears.'
http://www.fatea-records.co.uk/magazine/live/CathrynBrianLive.php/
'Seated purveyors of songs about weather and a whole range of human emotions both good and bad, delivered with twin guitars and perfect harmonies [...] The last time we saw Ben and Jimmy they were fresh back from their recent trip to the US and were now styled by the finest malls Nashville had to offer. Clearly buoyed from a successful trip and having played support slots with Graham Gouldman of 10CC and Ralph McTell their star is clearly on the rise.
https://www.w21music.com/single-post/2018/01/16/Midwinterfest-2018-Day-2-Saturday-Afternoon-with-Ben-Smith-and-Jimmy-Brewer
'Songs that really pack a lot into their short duration, painting human emotions with a level of depth not often seen within the confines of a three minute song [...] Their eponymous EP is a pretty good representation of what they sound like live, voices and guitars in perfect harmony.'
https://www.w21music.com/single-post/2018/01/09/Midwinterfest-Preview-3-Ben-Smith-Jimmy-Brewer-EP-Review-x-2
There is lots to enjoy in a Ben and Jimmy set, we were immediately taken with "Another Shade Of Blue" with Jimmy's almost Spanish guitar solo, while the pathos of "Lovely Day To Do Nothing" with food "delivered in boxes I forget to throw away" gets us every time. With a sound that is paradoxically both fresh and retro they are enormous fun to watch and marvel at as both their respective vocals and guitar playing interact. [...] The closing song, the up tempo "Don't Say You Don't Love Me" almost had touches of Sonny Curtis and Buddy Holly about it while remaining definitively theirs.
https://www.w21music.com/single-post/2017/10/01/Kate-Ellis-Vinyl-Launch-with-Lisa-Wright-Ben-Smith-Jimmy-Brewer-Kaity-Rae
'Closing with a storming "Julietta" complete with a guitar break so awe inspiring it drew applause from the crowd mid song, and "Don't Say You Don't Love Me" the morning session completed on a high. There's an album due from these guys later in the year with a full band playing on it that we are really looking forward to.
https://www.w21music.com/single-post/2018/04/09/Ramblin-Roots-Sunday-Morning-Session-The-Savannahs-Ags-Connolly-Smith-Brewer---High-Wycombe?fb_comment_id=1530056450426093_1531229246975480